Cave Cafe Hall Rental
The cavern interior can accommodate a maximum of 350 in a seated theatre format, and can be used for a variety of events including concerts and seminars.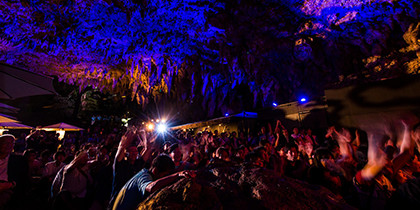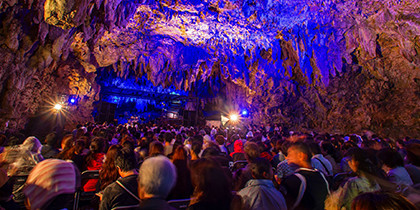 Entertainment
We can arrange for a variety of artists, including those that perform splendid traditional Okinawan dances and songs, and Jazz and Latin bands.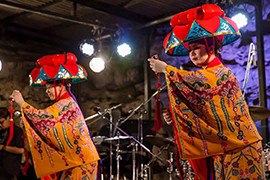 Traditional Performing Arts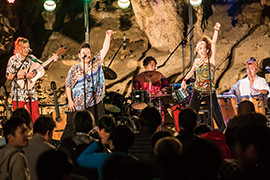 Okinawan Salsa Band: KACHIMBA 4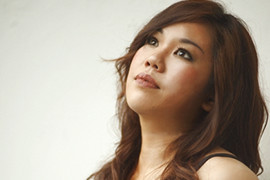 Jazz Singer: Takako Afuso


Masahiko Miyakawa
Original Combined Entertainment Show
The Valley of Gangala's combined entertainment show features the "Imagination Tour into Antiquity Through the Five Senses and More," a commissioned script from actor and director Masahiko Miyakawa. It includes songs and performances that offer a sense of the eternity that lies within the Valley of Gangala. It is a new type of entertainment experience where performers, singers and the audience become one in a journey through time and space. (This show is only available in Japanese.)
Cave Concert
〈Theater: 350 seats〉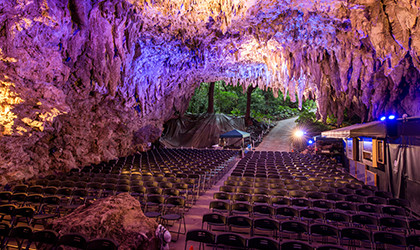 Notice concerning use of Cave:
●Venue is a natural limestone cave, and as such, naturally falling droplets of water may occur.
●Venue is non-smoking.
●There is no air-conditioning equipment.
●Restrictions may be placed on sound levels to preserve the limestone cave.