Activity Programs
Make use of the genuine natural coral-limestone karst terrain.
A special program where you can monopolize a space that transcends the ordinary.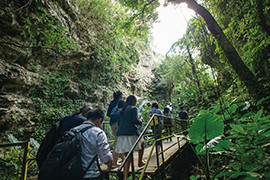 Valley of Gangala
Guided Tour
Special Pre-Party Plan
A special guided tour that follows the popular route but in reverse order. Get a sense of the value the valley has to offer in all of its variety before finishing up at the Cave Café party venue.
Capacity: 30 - 120 people Maximum of 40 persons per tour
Time required: About 60 minutes
Starting times: 17:00 or later
*Normal clothing can be worn
*Special prices available for party guests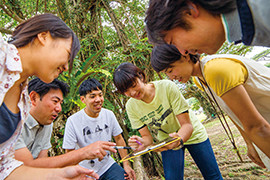 ナゾトキアドベンチャー®
Search for treasure hidden within the dense forest of the eternal sanctuary ― the "Valley of Gangala"
A team building program in the style of a riddle-solving game. 6 people work as a team, cooperating to solve the riddles they are given as they make their way around points on the tour course within the Valley of Gangala.
Capacity: 30 - 144 people 6 people per team
(A maximum of 12 teams can participate simultaneously)
Time required: About 90 minutes
Starting times: 16:20 or later
*Normal clothing can be worn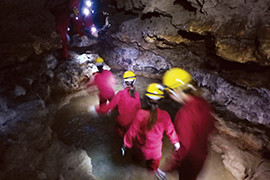 Private Areas of Gyokusendo
Tropical Cave Exploration
Explore the private areas of Gyokusendo, one of the largest limestone caves in Japan.
Participants wear matching exploration gear, and make their way through the undeveloped caves.
Capacity: 20 - 50 people (Please enquire for parties of more than 50 persons)
Time required: About 180 minutes
Starting times: Negotiable
*Includes rental of exploration gear, helmet, shoes, and work-gloves
*Shower rooms provided Please bring swimwear & towels
*Program can be held in rainy weather, but may be cancelled depending on the condition of the course.
*ナゾトキアドベンチャー (search for hidden treasure) is only available in Japanese.