Party Plans
Have an impressive party exceeding your imagination in a miraculous natural cavern with roughly 600 m² of space.
Accommodates a
VARIETY OF PARTIES
A private booking may be made in the evening to hold a variety of events at the Cave Cafe, including parties, seminars, and live music events.
Party Plan
・Full Course Plan ・Buffet Style Plan
Package plans including venue usage fees, table arrangement, and meals, etc. ※18:00~21:00(two hours)
We can arrange for a variety of artists. click here for details >
Hall Rental
For tailor-made parties and live events. ※15:00~22:00(includes time for set up and clean up)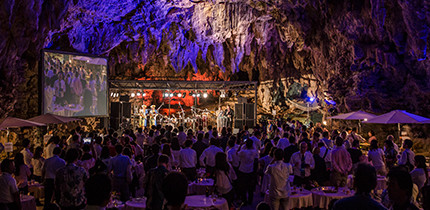 Capacity
Parties
Seated: Max. 100 seats
Stand-up Style Buffet: Max. 180 people
Concerts
Theater: Max. 350 seats
Standing: Max. 600 people
Notice concerning use of Cave:
●Venue is a natural limestone cave, and as such, naturally falling droplets of water may occur.
●Venue is non-smoking.
●There is no air-conditioning equipment.
●Restrictions may be placed on sound levels to preserve the limestone cave.
Recent Awards / Achievements
The only entry from Japan on TripAdvisor's "15 Mysterious Caves of the World to Visit Before You Die"
Recipient of the Prefectural Governor's Award in the 2014 Okinawa M.I.C.E. Content Contest
Included as an example in the Unique Venue Best Practice Compilation published by the Japan Tourism Agency in 2015
Party venue for the Okinawa M.I.C.E. Night held by Okinawa Prefecture / OCVB in 2015
*Current as of January 2016
Buffet Style Plan
Customize the buffet menu as you see fit for a carefree party experience.
We offer three kinds of buffet menus, including the Standard Buffet, which features a set of popular menu items ranging from appetizers through to deserts, the Churashima Buffet, which focuses on local Okinawan ingredients, and the Hotel Chef Buffet, which is brought to you in collaboration with a resort hotel. Enjoy together with an Okinawan drink menu featuring home-made craft beer, local Awamori liquor and Jasmine tea.
Hotel Chef Buffets
Higher-level dining experiences with high-grade buffets courtesy of chefs from popular resort hotels.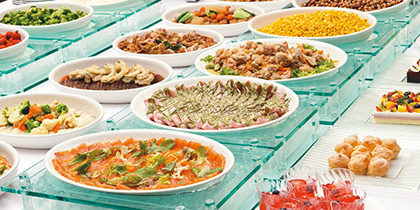 Okinawa Marriott Resort & Spa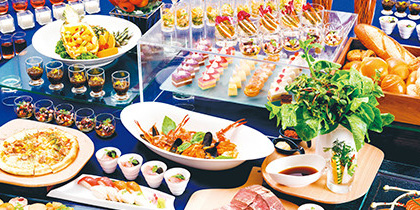 Southern Beach Hotel & Resort Okinawa
Stand-up style 50-180 people (Seating available for 100 guests. Chairs charged separately)
Okinawa Marriott Resort & Spa / 1 person¥13,500 (Including drinks)
Southern Beach Hotel & Resort Okinawa / 1 person¥11,000 (Including drinks)
Stylish Casual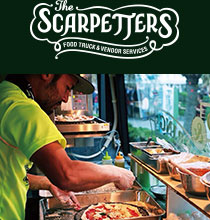 An unrestrained assortment of appetizers
making abundant use of fresh Okinawan ingredients.
Local chickens, roasted whole over charcoal in the "huli-huli" style.
Toast in style with craft beer and authentic Neapolitan pizza!
Try a Brooklyn-style party brought to you by the SCARPETTERS, the catering team from the popular Italian restaurant BACAR in the prefectural capital of Naha. On offer are appetizers featuring home-made hams, seafood marinades and quiches, along with authentic Neapolitan pizza and local chickens splendidly roasted whole over charcoal. There is also the popular cave party plan that includes a set where you can enjoy all-you-can-drink homemade craft beer direct from the neighboring brewery.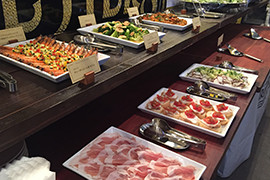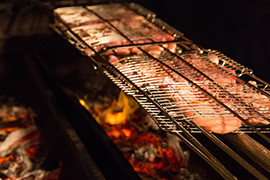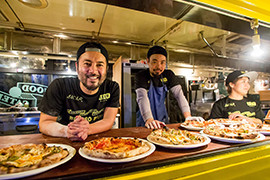 Stand-up style 30-120 people/1 person¥10,000 (Including drinks)
*Menus may change according to the seasons.
Examples of Venue Layouts
Seated-style: 100 people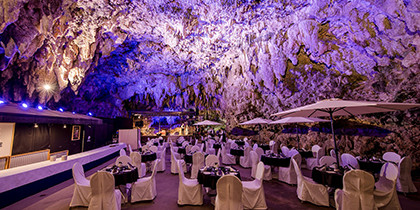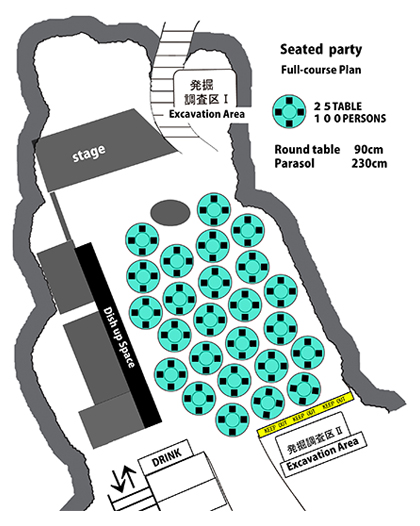 Standing-style: 180 people